Round balloons for fairs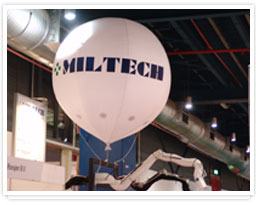 An excellent advertising medium to attract attention and visualise the name of your company at a fair or an exposition – a real eye catcher!
These balloons for fairs can of course be used for other purposes, too – just look at the pictures.
They can also be used outdoors
Sizes
Available in various diameters (1 to 6 meters, larger on request)
With prints
We can print anything you want on 1, 2, 3, 4, 5 or even 6 sides of the balloon, also in full-colour (on a white balloon). Just send us your logo (JPG, but preferably in EPS).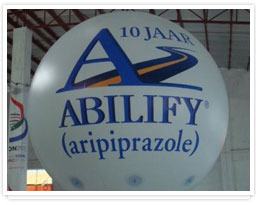 Air or helium?
These balloons for fairs can be filled with air or helium.
You can have your printed balloon delivered at a venue of your choice, and we can inflate it on-site for your, with air or helium.
Features
Balloons for fairs can be equipped with eyes on top or on the sides (for suspension).
Available with a hose, so that you can inflate the balloon with a blower (additional fee due for renting ), or with a valve, to inflate it with a balloon pump.
Delivery period
Delivery time is 10 workdays.
Contact us
Please feel free to contact us for more information.