Zeppelins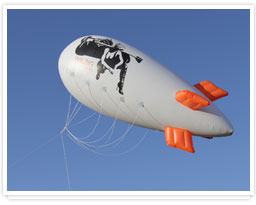 Our zeppelins are often used for publicity purposes.
They are available
in varying lengths (3 to 12 meters)
in all colours, or with different colours for the different sides or wings)
with prints on both sides (also available in full-colour)
They can be
used in- and outdoors
filled with air or helium
and rented – then your logo can be printed on a banner!
See table below for prices and further information.
Zeppelins, to be filled with helium prices in euro's (21% VAT not included)