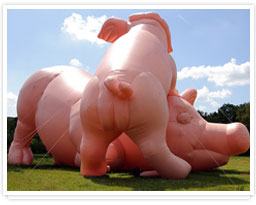 Heart-shaped balloons
Our heart-shaped balloons come in sizes from 100 cm to 300 cm – and larger on request.
You want them printed? No problem! Both sides, and in full-colour is no problem either!
These heart-shaped balloons can be filled with air and attached to roof or wall, or filled with helium. If you want them to float in the air, you will need a minimum size of 250 cm. Prices on request
An excellent advertising medium to attract attention and visualise the name of your company at a fair or an exposition – a real eye catcher!
These balloons for fairs can of course be used for other purposes, too – just look at the pictures in the Pictures section of this website.
They can also be used outdoors.
Do you want your balloons be printed with text, logo's or pictures? … We offer balloons in various colours, sizes and forms. Even printed balloons.
Our extensive range of balloons offers you a fine choice:
Can't you find the balloon of your choice? Well, let us custom make it for you!
We are happy to help you find the balloon that suits your aims best. We also sell balloons (see www.bubblexl.com) and accessories for balloons. The accessories and some items are for rent, too.
Buying a balloon in PVC, a balloon for a fair or a publicity balloon never was as easy as it is now, at our website. Feel free to have a look around, and order directly, just phone +31 643 74 76 11.